Mother's Day – $100 Amazon Gift Card Giveaway
This post may contain affiliate links, for more info click here.
I just finished watching 7 seasons of Gilmore Girls, a show that I did not expect to like. Typically, I stay away from shows with too much romance because they are so predictable. The main character will fall in love with someone but that someone is usually with someone else at the time or that the main character is too shy to approach this someone. Then they end up dating other people before they realize they are actually in love with each other. Something always comes up that breaks up the couple and they go through depression and start dating other people again. And in the end, they realize that they have been in love with each other all this time and get back together. Why would I watch something when I already know the ending?
via GIPHY
The main focus for Gilmore Girls, however, was about the relationship between the mother and the daughter. They were best friends who could talk to each other about everything. The daughter factored her mother into every decision she made and when they were not together, they talked on the phone frequently about everything. I know this is just a TV show, but it made me think… How can I be THAT mom? The cool mom…The understanding mom… The mom who, even in high school, my children would be proud to announce to their friends, "Hey that's my mom!" instead of pretending like they don't know me?
via GIPHY
Being a mother is hard. Motherhood messes with your mind, toys with your emotions, and strains your body. I have a while to go before worrying about what my kids will think of me in high school, but even in the toddler stage, I wonder what my son thinks when I discipline him or when I forbid him from doing certain things, like run around in the middle of the road. Therefore, for Mother's Day, I want something that would just make my life a little easier as a mom. Something that would help save what little sanity I have left after a day of toddler tantrums and diaper blowouts.
via GIPHY
My typical morning includes pouring myself a hot drink, setting the hot drink to cool down on the countertop, changing the baby's diaper, preparing the toddler's lunch, helping the toddler brush his teeth and change his clothes, holding the baby because she is getting tired and fussy, and chasing after the toddler because he doesn't want to do any of things I mentioned above. Then after my husband takes my son to school, I run out with the baby to walk the dog, and then after we return home I go straight to nurse the baby to sleep. My hot drink, unfortunately, has been long forgotten and is no longer even warm. I have heard from friends that the YETI Tumblers are the best at keeping drinks hot for hours and the No Sweat Design keeps the outside of the tumblers nice and dry. This means I could enjoy my hot drink all day long, which is awesome because that's exactly how long it would take me to finish it!
I love to cook. I have a picky toddler. I make a variety of food for my toddler. My toddler will eat some of what I cook depending on his mood. Some days he feels like corn can only be eaten on the cob so he won't eat the pieces of corn in the fried rice. Some days he feels like the fish can only be eaten whole so how dare I serve him fish without the head and the bones. So, despite my love for cooking, some days I am just tired of putting all the effort into making a delicious meal that winds up getting eaten by the dog because my toddler is moody that day. Sun Basket provides healthy recipes that use organic and non-GMO ingredients so I feel good serving the food to my kids. Even at just 3 dinners a week, a Sun Basket plan would give me a break from racking my brain to come up with meals that my toddler would eat.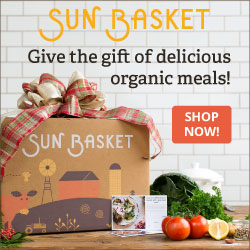 I feel like everything I wear these days are V-necks that show more cleavage than I care for. However, more frequent than I would like, I find myself nursing Zoe while chasing after Alex. Yes, WHILE. Therefore, I need clothing that I can pop out my boob easily to feed my baby in case I am doing so on the run. With hotter weather coming up, I would definitely like to find a dress that I can nurse in so I can feel cool, fashionable, and comfortable at the same time.

I have been wanting a juicer for the longest time. For some reason, I just can't bring myself to eat the daily recommended portion of fruit every day. Heck, most days I can't even get one bite of fruit in. However, I do love to drink juice. Therefore, a juicer would be perfect to help me get the vitamins that I am lacking from fruits.

I have not gotten the chance to get back to the gym yet since Zoe's birth. One thing I really miss is TRX exercises. If you feel like you are bored with your workout routine, give TRX a try. I guarantee you that you will feel pain in places you don't even know muscles exist. What's great about TRX is that you don't need any other equipment; the suspension system allows you to use your body weight to sculpt and build muscles. Trust me, you don't know pain until you try doing mountain climbers or pike exercises on these ropes. But baby, it hurts so good.

To help you celebrate Mother's Day, I have teamed up with my friends and fellow bloggers Michelle of A Bustling Home, Elle of Maps and Monograms, Jacqui of Messy Mom Bun, and Brianna of SpikedParenting to host a giveaway! We are giving away $100 Amazon gift cards to not one, but TWO lucky winners!  The contest ends May 2, 2017. Hurry and get your entries in!
What would you get with your $100 Amazon gift card?