5 Benefits of Messy Play
This shop has been compensated by Collective Bias, Inc. and its advertiser. All opinions are mine alone. #TearASquare #Brawny #TargetFinds #CollectiveBias
Do you let your kids get messy? Does it drive you up the wall when they get paint on their clothes or all over their faces? Or do you shrug it off when flour spills all over the countertop and floor? I must admit, I hate it when the kids create a mess. It literally hurts me when I see food smeared all over the table or playdough stuck in the carpet fibers. However, messy play is how children develop and learn. Therefore, it is important to provide plenty of opportunities for young children to actively use their senses through "sensory play" (a.k.a. making a huge mess) for their brain development.
But trust me, I know how it feels when your blood pressure skyrockets because your child is caked in mud or when he or she is soaked because he or she jumped into a puddle of dirty water. Therefore, let me share some benefits of sensory play that will make you feel good next time things get messy!
Sensory Development
Messy play promotes the 5 senses: taste, sight, touch, smell, and sound. We as adults may take our senses for granted, but children are still learning about their own bodies, and they need help to learn how to use their senses. Create activities that stimulate the senses, such as eating food with different tastes (bitter, sour, salty, sweet, and savory), distinct textures (for example, an avocado versus a lemon) and interesting smells. Let your child explore and experiment with his or her senses and discover how they can help him or her make sense of the world.
Imagination
You give children a car, and they know to roll it on the floor. You give them a ball, and they throw it or kick it. You give them sand, soapy water, or shaving cream … and what? There are no rules or restrictions to what you can do with messy play. Since messy play is not focused on an end goal, the children can let their imaginations run wild and explore every and any possibility of which they can think.
Motor Skills
Depending on the type of sensory play, your child can also work on developing his or her gross motor and/or fine motor skills. Messy play, such as running through and jumping into puddles, requires coordination of large muscle groups in the body, hence enhances gross motor skills. Activities such as pouring sand or water from one cup to another build fine motor skills.
Language Development
Sensory play helps your child talk about the world from a whole different perspective. Water is no longer just wet, but also slippery, cold, hot, or bubbly. Flowers are not just different colors, but also soft when you touch the petals, prickly when you touch the thorns, and fragrant when you smell. Help your children describe sensations and textures to build their vocabularies and encourage speech by asking them questions about what they are doing. Sure, your child can learn these vocabularies by reading a book, but it is not only until he or she really experiences it himself or herself that he or she truly understands their meaning.
Independence
If your children are like mine, they need mommy's attention all the time, which means mommy gets nothing done during the day. The only time they would play by themselves is when I bring out sensory activities. Since there is no right or wrong when it comes to messy play, they can play however they want to. They are in total control of what they would like to do with the materials they are given, which also help boost their self-confidence and self-esteem.
Managing the Mess
Messy play? Super fun! Cleaning up the mess? Not so fun … or is it? Children love to clean because cleaning means accomplishing something that contributes to the household. They are motivated to clean because they want to be just like mommy, who is constantly wiping and scrubbing one thing or another in the house. And who are we to stop our children from doing chores when they enjoy it so much?
To ensure that our children continue their love of cleaning, we must make sure they are equipped with the right tools. My children love using spray bottles to cover the dirty area with water before wiping up the mess. Then to wipe it all up, we turn to the toughest dude in the house (no offense to my husband) – The Brawny Man!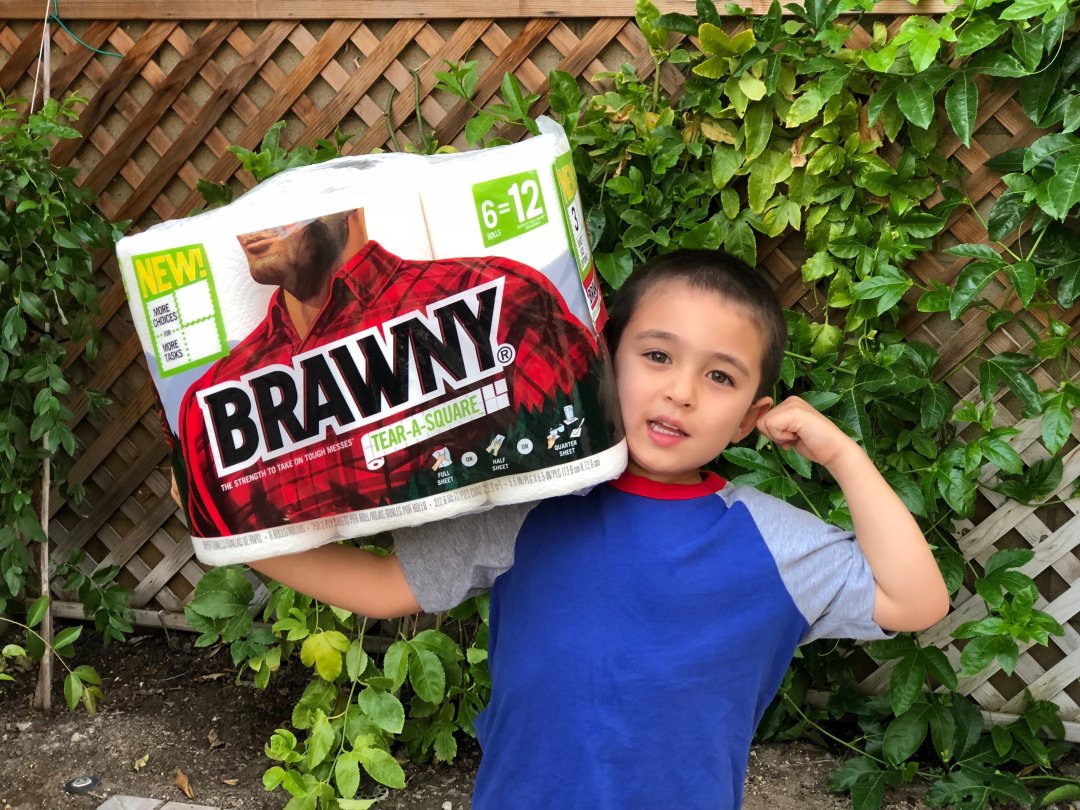 Now, imagine you tearing off a paper towel for your kid. Do you give them the entire sheet as is? I sure don't. I take the paper towel and fold it until it's a nice little square that is the perfect size for their little hands. But what a waste! If you kids are like mine, they will only use one side to wipe the table or the floor vigorously, and when I try to help them turn the paper towel inside-out so they can use the clean side to clean some more, I am met with "NO! MINE!" followed by little hands smacking mine away. So in the end, only ¼ of the paper towel gets used and, of course, they also feel the need to throw it in the garbage, so I couldn't even try and salvage the rest of the paper towel for other uses.
Brawny Man to the rescue! Brawny® Tear-A-Square™ paper towels, like all other Brawny paper towel products, are strong, absorbent, and durable, ready to handle anything from your toughest messes to simple, everyday cleanup. However, unlike the other paper towels, Brawny Tear-A-Square paper towels have a unique quarter sheet size option that allows you to use a smaller sheet size option for your smaller tasks so that your roll can last longer.
My kids love tearing the paper towel into the ¼ size option they need for cleaning up their own messes. You can tear the paper towel into the ½ size option and then tear it a half again to get to the ¼ size option. I just put aside the other ¼ sheet until the next time I need it.
The other way to get to the ¼ sheet is to simply follow the perforation and tear out just the square. My 4-year-old has no problem doing so. In fact, he thinks it's so much fun he wanted to keep tearing the paper towels into little squares!
The quarter sheet option is perfect for them to grab and hold for wiping and cleaning. The square is approximately the size of their hands so that they can use both hands to move the paper towel to soak up their messes.
Where can you find Brawny Tear-A-Square paper towels? Our favorite shopping spot, Target! You can find them in the aisle with the sign for "Paper Towels."  Check out the Brawny Tear-A-Square paper towels at your local Target today!