The Ultimate Guide to Finding New Mom Friends: Part 1
Alex was an extremely difficult baby. The only time he wasn't being fussy or crying was when he was nursing. I spent the first few weeks sitting at home, breastfeeding him all day to keep him happy. However, I was lonely and stuck at home. What happens if I go out with him and he cries in public and I can't make him stop? What happens if he spits up all over me and I have to walk around with a stained shirt? People would judge me and think I am a horrible mother. I couldn't go out and risk people seeing all my failures as a mom.
via GIPHY
When Alex was 4 weeks old, my mother-in-law came to visit. She saw that I was not happy and encouraged me to go out. We tried the dog park, and I hid behind a tree while Alex screamed bloody murder. We tried walking around the neighborhood with Alex in the stroller but ended up sprinting home when Alex started complaining. Then we decided to try going to a support group for new moms at the birth center.
I remember the shock I felt when I saw one of the moms casually took her breast out and nurse her baby without a cover. A couple of moms laughed and chatted while one changed her baby's poopy diaper. One mom joked that she hadn't washed her hair for a week and forgot the last time she showered. My mother-in-law started talking with one of the moms, and I smiled timidly and tried to join the conversation when Alex started screaming. I tried to calm him down by patting his back and swinging him in my arms, but he continued to cry. Fighting against the voice inside my head that was yelling "How dare you!" at me, I took out a boob and started nursing Alex, which quieted him down right away. I looked around to gauge the other moms' reactions and to my relief, most of them continued their conversation as if they didn't hear Alex at all and a couple gave me a sympathetic nod. No one seemed to care that I had one breast out of my shirt. No one seemed to mind that I couldn't calm my baby down without nursing. via GIPHY
Ever since then, I made it a mission to find new mom friends. I sought out classes and groups to meet fellow moms who I could talk to about everything. With my mom friends, we have talked about postpartum issues like constipation, newborn questions like how to manage blowouts, and relationship concerns like lack of sex drive. No topic is taboo – any topic is game. From my mom friends, I have learned so many things that make me a better mother. With my mom friends, I have learned to be proud of myself as a mom.
It takes a village to raise a baby. And it takes a tribe to survive motherhood.
So, where can you find mom friends?
Support Groups
There are tons of support groups you can join, especially as a mom of a newborn. Look for new mom support groups in the hospital in which you gave birth as well as support groups in birth centers, pediatrician's offices, and even baby product stores close by. If you are nursing your baby, chances are the same places offer breastfeeding support groups as well. In these support groups, you will find mom friends with whom you will form an incomparable bond because these moms will experience the hardest phases of a baby's life with you. You will cry together over the colicky babies, laugh together over the babies hitting their milestones, and lose your minds together over the lack of sleep. You will watch your babies grow up together from only a few weeks old and marvel every birthday at how big and fast they grow. I have moved across the country since I gave birth to Alex, and I still can count on my mom friends from those support groups anytime I need advice.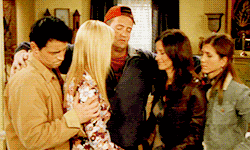 via GIPHY
Libraries
Most of us probably have not stepped a foot into the library since college, but there are so many reasons to go once you have kids. I have been bringing Alex to library story times ever since he was 6 months old. Even though as a baby he couldn't understand the stories or the songs, he was quite amused watching other kids clap their hands and running around playing and singing. I have met a few moms who I see repeatedly at story times and struck up a conversation with them afterward.
Mommy & Me Classes
There are various mommy & me classes out there: music, art, gymnastics, swimming, etc. I have loved taking my kids to Gymboree and MyGym ever since they were infants and have met many mom friends in those classes. I have taken Alex to mommy & me classes at different Montessori schools so that he could be exposed to Montessori materials at an early age. I just love mommy & me classes because you get to watch your kids have fun and play with each other while you chat away with other moms. Research for mommy & me classes near you and sign up!
Postpartum Fitness Classes
Once you are cleared to exercise, you may want to start getting back in shape. However, if you are like me, you may feel guilty leaving your baby in someone else's care while you work out at the gym. Luckily, there are fitness classes that let you burn calories while keeping your baby with you. One example is a stroller fitness class, where a group of moms walks and workouts while pushing around their babies in the strollers. Fit4Mom and Baby Boot Camp are two great programs that hold classes nationwide. Not feeling up to exercising outdoors? There are many mommy & me yoga classes where you can practice yoga with your baby laying on the ground in front of you so that you can interact with your baby while breaking a sweat. Meeting moms at these classes has the added benefit of motivating each other to achieve a common goal – losing the baby weight!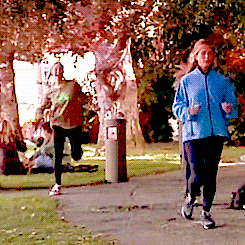 via GIPHY
Meetup.com
Meetup.com has many different groups that form around a common interest. For example, there is a group for single parents, a group for moms with special needs children, and a group for parents who love beaches. You get to review the past and future meetups to see if the groups host activities you may be interested in. Some groups are free, while others ask for a small fee to help pay for the Meetup.com dues and materials that may be necessary for the gatherings.
National Organizations
MOMS (Moms Offering Moms Support) Club & MOPS (Mothers of Preschoolers) are national support groups with local chapters. MOMS Club is geared towards stay-at-home moms who chose to take on motherhood full-time. The club is open to moms with kids of all ages and meets throughout the month with playdates and other activities. I have been involved with my local chapter ever since Alex was an infant. When Zoe was born, the group was super supportive and brought me meals for the first couple of weeks to help me survive. MOPS is an organization designed for mothers of children preschool age and younger. They typically meet twice a month in the mornings and provide childcare for your kids while the moms enjoy craft time, listen to speakers, and get to know each other.
Facebook Groups
Who says you can't make mom friends who are living on a different continent? There are tons of Facebook groups that have members from all over the world with a shared purpose in mind. For example, I am in a group that is dedicated to helping moms meet their breastfeeding goals and another that is for sharing kid-friendly recipes and asking questions concerning feeding the little ones. Virtual mom friends are an important part of your tribe because you get so many different perspectives from moms located in different parts of the world. Plus, especially when you are up at 3 AM nursing your baby, it's nice to have someone to chat with online.
via GIPHY
Parks & Playgrounds
Once your kids are mobile, you can bring them to parks and playgrounds when the weather is nice. Guess who else goes to parks and playgrounds? Other moms! Especially if your kids are getting along and playing together, strike up a conversation with other moms and schedule future get-togethers.
Around the Neighborhood
Have you met your neighbors? Do you notice parents with kids walking around your neighborhood? Next time, wave to them over and introduce yourself and see if you can take a walk together or invite them over for a playdate. I happen to be lucky enough to live on a street with tons of families with younger kids. When we get some free time, we just hop over to each other's houses for playdates since we are all literally minutes (or seconds) away! Plus, if you ever run into emergency situations that require you to leave your kid, what's easier than walking next door and dropping your kid off with a trusted mom friend.
At School or Daycare
If you send your child to school or daycare, you will often exchange awkward hellos and byes to fellow parents during drop-offs and pick-ups. Why not continue the conversation beyond the greeting and get to know some of the moms that you see pretty much every day? I know some moms who even coordinate a lunch schedule where they prepare lunches for each other's kids so that they don't have to worry about packing their kid's lunches every day.
Motherhood is beautiful. Motherhood is a blessing. Motherhood is also lonely, horrible, and scary. Your husband may want to understand what you are going through, but without being a mom himself, he cannot truly put himself in your shoes. You cannot do it alone, and you do not need to. Go out there and find mom friends and build your mom tribe. The support will make you a happier, more knowledgeable, and more confident mom.
via GIPHY
Now that you know where to find other moms, how would you actually go about making them your friends? Stay tuned for Part 2!
Where have you met your mom friends?